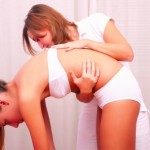 What Happens During a Chiropractic Session?
The first visit usually lasts about an hour. The chiropractor takes a complete health history, including information on past injuries and illnesses, current conditions and medications, lifestyle, diet, sleep habits, exercise, mental stresses, and use of alcohol, drugs, or tobacco.
During a physical exam, the chiropractor evaluates your spine and joints and may perform diagnostic tests, such as blood pressure, x-rays, MRIs, and other tests to make a diagnosis. Treatment usually starts on the first visit unless the chiropractor decides that special investigations into the condition need to be carried out before treatment.
Patients are typically asked to lie on a specially designed table, where the chiropractor does the spinal manipulations. The most common is manual manipulation, where the chiropractor moves a joint to the end of its range, then applies a low force thrust. The chiropractor may also use other treatments, including massage and heat and ice therapies. You should not feel any pain from the manipulation. Some people have minor aches, stiffness, and tiredness for a few days after the manipulation while their body adjusts to the new alignment.